The mighty Mekong to Cambodia
19.02.2015
We left our hostel in Ho Chi Minh ready to catch the bus to the Mekong. In with the caos of trying to fit all the other tourists in, the tour company pulled out stools for people to sit on.

Once the bus was full and we drove past our start point again about 1.5 hours after we started, we were off to the Mekong. Always interesting to people watch in Vietnam, more so watch traffic. The scooters and their cargo are crazy! This is one of many examples of what to expect!

We headed south west to Mý Tho for our first experience on the Mekong.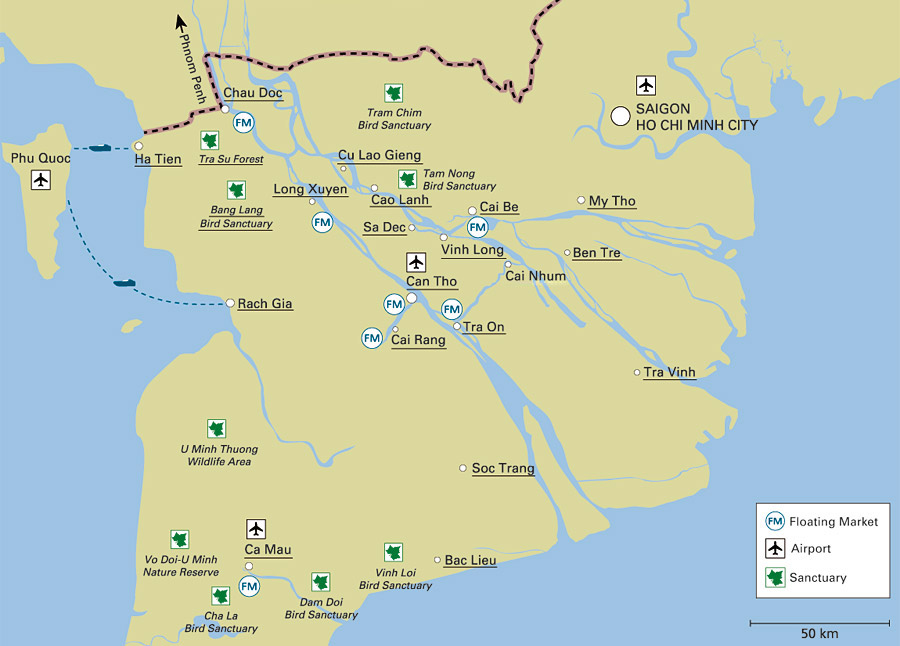 Mý Tho
Anyone that doea a tour to the Mekong will experience the wonders of Mý Tho. A quick boat trip across to a three diffferent islands in the river gives you the experience of the wonderful but wierd attempts that Vietnam have at tourism. Some incredible WOW moments, other gift shops and odd horse rides that made no sense. my favorite was when they were telling us about the local animals and they pulled out a 1.5m long python... Turns out that Stacey likes snakes as much as rats.... i have never seen her move so quickly. We also tasted honey straight from the bees.

We then jumped on what we assumed we was the right bus (our identifier for the tour company was 1 couple and we weren't the only couple). We headed to Can Tho for the night.
Can Tho
On the map Can Tho looks tiny, smaller than New Plymouth. Apparently 1.5 Million people live in the area. WOW!
As it is so close to lunar new year, everywhere is covered in lights and events seem to happen all night.

The next day we went to a floating market where vendors come out of nowhere like pirates and hook themselves to your boat and barter deals.
Also larger boats supply the smaller ones. My favorite was all the coconuts! So many!

Off in a bus to Chau Doc.
Chau Doc
In Chau Doc we experienced our first Buddist temple, fasinating and magical. We could see the border into Cambodia and went to a Muslim village in Sarong (where the make Sarongs). They had manually operated weaving machines, so I had to figure out how they worked naturally, and Stacey was more interested in the shopping.
After Sarong straight on the boat to Cambodia!
Cambodia
Our boat ride was long and eventful. Our boat company made sure that the border control had plenty of gifts for lunar new year and to help make sure we got through ok. We also after 6 long hungy and thirsty hours on the boat learnt that they had $1 beers on the boat the whole time. Oh well, at least we got our fix before we arrived in Phnom Penh!

Looking forward to Phnom Penh.
Posted by travellinghoney 05:42 Archived in Vietnam Comments (3)